Officer Kelley was appointed a Supernumerary Stamford Police Officer on December 26, 1923 and he was appointed a regular Stamford Police Officer on January 15, 1931. On July 1, 1937 he became a member of the Motorcycle Motor Patrol Squad.
On Friday, July 8, 1938, at 5:30am, he was on duty riding his motorcycle on Jefferson Street when his bike skidded throwing him against the front bumper of a light delivery truck. He died instantly of multiple injuries.
Officer Kelley celebrated his 39th birthday the night before his death. Officer Kelley served more than 6 years as a regular Stamford Police Officer and more than 13 years including his service as a Supernumerary Police Officer. He was survived by his wife, Katherine Kelley, his son, George Kelley, his parents, Mr. & Mrs. Michael Kelley, three sisters and five brothers.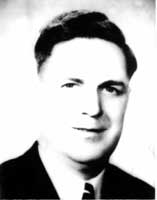 Officer George D. Kelley
Died July 8, 1938