Officer McNamara was appointed a Stamford Police Officer on September 3, 1969. On Tuesday, December 18, 1973 at 3:00pm, Officer McNamara and his partner were dispatched to an armed robbery at Tower Liquor on Washington Blvd.
A man held up the clerk at gunpoint. He then took the clerk, at gunpoint, out of the rear door of the liquor store. Witnesses called the police. The robber was in the Hotel Hazelton lobby (near Tower Liquor) when Officer McNamara's partner enterd the hotel. His partner saw the robber holding the clerk at gunpoint. The robber stepped back few steps and pointed his gun at the officer. The officer shot at the armed robber hitting him in the arm causing him to fall to the ground. At that moment the officer saw another gun out of the corner of his eye. Thinking it was another suspect the officer fired, Officer McNamara in the chest. Officer McNamara apparently approached from a small room off the hotel lobby to gain a better angle on the suspect. His partner in the heat of the moment mistook his identity as another armed suspect.
Officer McNamara was rushed to Stamford Hospital where he died in surgery from his wounds (4:17pm). The armed robber had taken $100.00 and three bottles of liquor from the liquor store. Officer McNamara's partner, who he had worked with as a team since they both became Police Officers in 1969, was cleared of any wrong doing, as the shooting of Officer McNamara was classified as accidental.
Officer McNamara was 31 years old at the time of his death having served over four years as a Stamford Police Officer. He was a four-year veteran of the United States Navy. He was survived by his wife, Patricia Ann Greco McNamara, a daughter, Laurie Ann McNamara, a son, Keith McNamara, his mother, Mary Armadi McNamara, two sisters and two brothers.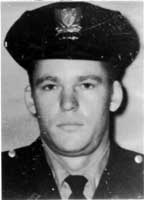 Officer William M. McNamera
Died December 18, 1973