Officer Schlechtweg was appointed a Stamford Police Officer on December 22,1924. Two years later, in 1926, he became a member of the Motorcycle Motor Patrol Squad.
On Thursday, May 26, 1938 at 9:00am Officer Schlechtweg was on duty riding his police motorcycle on East Main Street (Noroton Hill or Post Road) near Courtland Ave when a car struck him. After sliding 46 feet across the Post Road, on his motorcycle, he was taken, via the "police ambulance" to Stamford Hospital. He died, without ever regaining consciousness, at 10:20pm, due to a compound fracture of the skull.
Officer Schlechtweg was 41 years old at the time of his death, having served more than 13 years on the Stamford Police Department. He was a military veteran having served in the United States Navy during "the World War" (WWI). He was the son of the late Andrew L. Schlechtweg, former first selectman of Stamford. He was survived by his wife, Lillian Schlechtweg, a daughter Hope V. Schlechtweg, and his mother, Mrs. Freida Schlechtweg Waleron.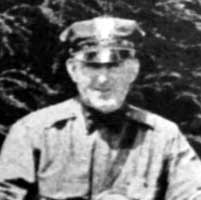 Officer Schlechtweg
May 26, 1938