Officer Troy was appointed a Stamford Police Officer on March 26, 1958. On Thursday, July 7, 1960 at 9:36pm, Officer Troy and his partner were called to an armed robbery at the Skipper Bar and Restaurant on Main Street.
A witness pointed out where the robber ran. The officers chased after him. They ran down an alley behind Main Street, near Greyrock Place. The armed robber, hiding on a second floor porch, was found by Officer Troy. The robber was on a partially shielded metal stairwell on the second floor. Officer Troy was on the roof below him giving chase when the robber shot down at him. Officer Troy returned fire emptying his revolver. Officer Troy was shot in the chest and abdomen. After being shot, he slid off the roof to the ground and crawled under a truck for cover. Upon hearing the gunshots, his partner ran back finding him.
Troy was taken to the hospital and died at 10:02pm from his injuries. When the robber was subsequently captured, on a later day, it was discovered that he was shot once in the leg by Officer Troy. The robber had taken $75.00 to $100.00 in proceeds from the liquor store.
Officer Troy was 27 years old at the time of his death, having served over two years as a Stamford Police Officer. He was survived by his wife, Rose Consentino Troy, his three children, Diane (3yrs), Doreen (4yrs), & David Jr. (6 mos), his mother, Bridget Troy, two brothers and four sisters.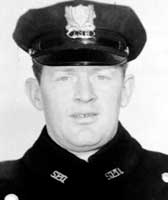 Officer David D. Troy
Killed in the line of duty
July 7, 1960